GCPS Technology Resources for Families
PowerSchool parent and student portals allow you to view assignments and end of grading period scores. We suggest utilizing the platform via their web browser for optimal performance and account creation. https://gloucester.powerschool.com/public/
The district code is: T H D S
Student links are also available via ClassLink.
Stay updated with access to events, news from administrators, student stories, and even emergency notifications. You can view news from the entire division or just your school. Don't forget you can also download school events right to your calendar.
Click here to watch a short video to learn more!
You can download the GCPS app for free on both Google Play or Apple App Store.
Download for Android https://bit.ly/3zOmRXn
Download for iPhone https://apple.co/3BxeUXP
It's everything GCPS in your pocket.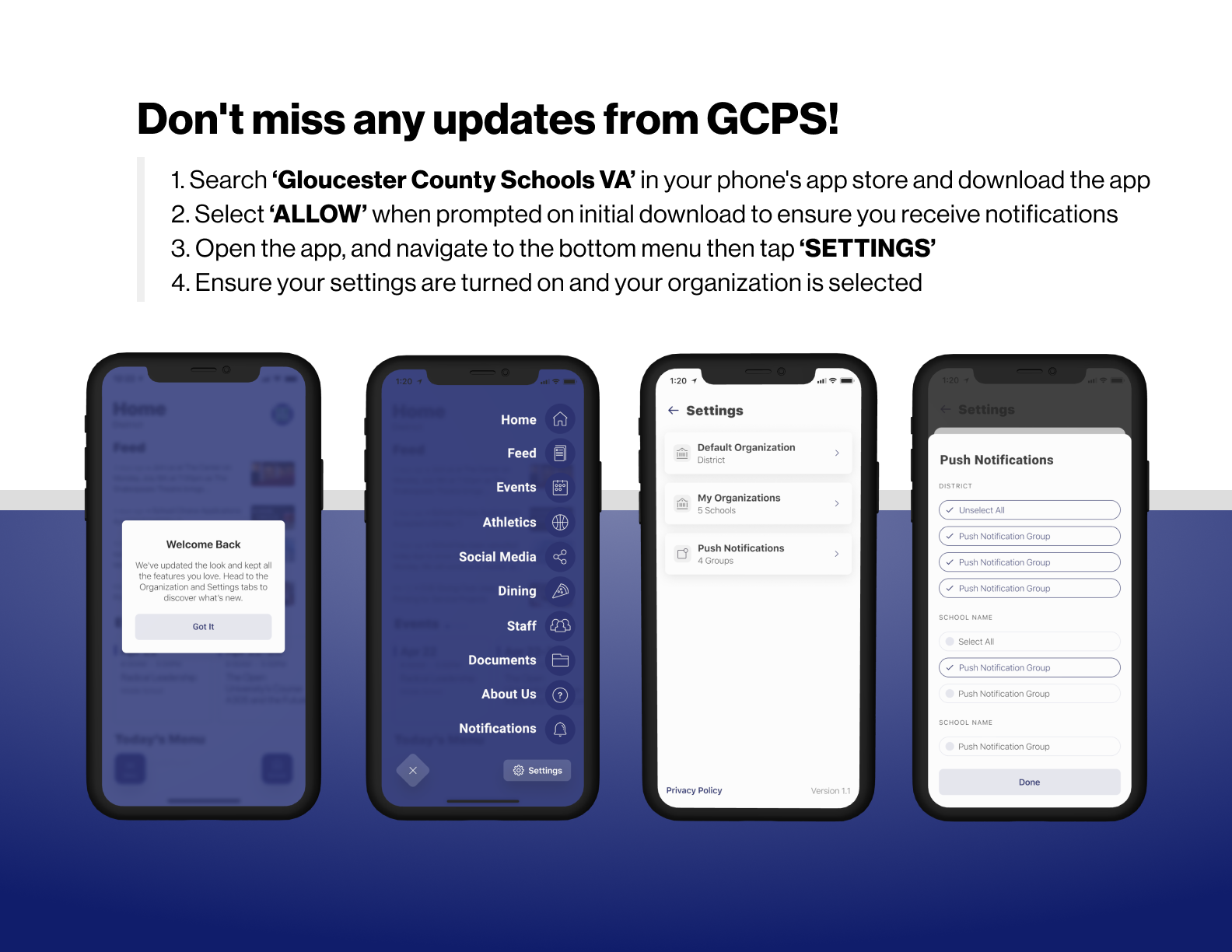 Student Canvas accounts can be accessed via the Google Waffle when logged in to their GCPS account or via ClassLink.
Mobile applications are available from the Google Play and Apple Apps stores.
Canvas for Parents & Caregivers
SchoolCash Online is our preferred method of payment
Gloucester County Public Schools is striving to improve safety and reduce risk wherever possible. One safety measure is minimizing cash and check payments at our schools. To accomplish this, we use SchoolCash Online for all school items and activity fees. If you haven't already created a free account, we encourage all parents to register, so you'll be ready to make online payments from home: both now and in the future as more school items become available again.
Benefits to parents and schools
You will help increase efficiency and security at your school by making payments directly into your school's bank account. This limits the number of people entering the school, reduces risk of lost payments, and allows teachers and office staff to focus on helping students and not counting cash. In addition, you are automatically informed about school activities!
Register now!
Registering takes Iess than two minutes: visit https://gcps.schoolcashonline.com